GCT's FAQ's
How do I contact you?
You can contact us in any of the following ways:
By Mail:
Novatrope, Inc.
PO Box 568
Occidental, CA 95465
Toll Free Number: 1-800-603-3022
By FAX: 707-874-9150
By email:support@ConnectTo.Net
We cannot stress this enough
When you are having trouble connecting to the Internet- Please, please try shutting off your computer, leave it off for 2 minutes, re start it and once it is all FINISHED starting up you can then retry the connection.
Most times a re-boot, re-start will NOT work but a shut down will help to resolve the problem.
Once you have done that and you still have problems, and you are sure your username, password and access number are entered correctly then give us a call.
Free Dial Up Page - NOT
Just a point of view of some of the services offering "free" dial up
New Internet Explorer Error Page!
The link to the new page is on the left of this page!
Please read our TIPS page!
Dial Up Service Tips by Connectto Click Here
I have 2 computers can I use Propel on both of them - Question from Jennifer!
Yes! All you need to do is connect using the dial up username you have with us and download Propel on the second computer
New page for MOH (Modem on hold) questions
The new Modem On Hold Page is here
2/28/05 Trying the blog page again
Our new blog page can be found here: New Blog
It is brand new so please hang tight while we add more interesting content.
Do you have Anti Virus and Firewall software?
Yes we do and we have several FREE programs to choose from.
You can choose a free anti virus or firewall from our site if you like. We also have FREE Anti Spyware programs to choose from as well
You can use the links to the left to get to the Anti Virus, Spyware and Spam pages.
My computer does not have internet access, how can I sign up?
You can sign up from any computer connected to the internet (a friend or neighbor's house, the library, at work, etc.)
If you do sign up from a computer other than your own please be sure to print out the manual set up instructions for your operating system.
That way when you get home you will be ready to set up and connect!
The manual set up should only take a few minutes and is very simple to do.
You can get to the page with the set up instructions by clicking here: SET UP INSTRUCTIONS
NOTE #1: If you sign up from another computer make sure you DO NOT download the set up configuration.
If you do download the set up it will configure which ever computer you are using to dial up to our service.
NOTE #2: You may also call us and we can issue a temporary user name to allow you to connect for a short time so that you can sign up for our service
How do I change my billing information?
At the present time you will need to call us
We do not have an online page to change it yourself
You can call us or send an email-if you are sending an email please make sure you include your dial up username
I have a new computer-how do I get connected on it?
The easiest way to do it is to log into the dial up access number look up
on either your old computer or another computer that has internet access
The dial up access number lookup is here: Dial Up Access Numbers
Find the access number or numbers you want to use-then download the file and save it to a disk the file is small so it can be saved onto a floppy disk, cd or even sent via email
Then just open the file on your new computer and it will automatically configure your dial up connection
If you have trouble with that or you are unable to do that process you can also go to
the manual set up instructions which will walk you through step by step (with pictures) how to set up the dial up connection. MANUAL SET UP
There are also instructions for email set ups on the same web page.
When I cancel my account when will it be closed?
When you notify us to cancel your account we will cancel it right then, the same day we receive your request- unless you specify a date no more or less than 3 days prior to your billing date. Once closed your account will not be re opened unless you re sign up and pay the set up fee.
There are no refunds once billing for the month has gone through so you must make sure you contact us 3 days before your billing date to notify us of cancellation.
Also, billing is based on monthly charges not on usage and we do not pro-rate charges.
How long can I talk on the phone using MOH?
It will depend on the network but usually 3-4 minutes
When is my billing date?
Your billing date will be the same day of the month of your sign up.
Example: You sign up on October 24, your next billing date would be November 24th.
If I don't use all of my hours in a month do they "rollover" to the next month?
No
Will I get an Icon on my desktop like AOL?
NO

You can connect to the Internet AFTER signing up by opening either;
Internet Explorer



or Netscape&nbsp


To open you can double click on the icon found on your desktop.
The set up download from our site should configure the dial up connection for you.
That way you can just open your browser and click on connect
You can also create a shortcut icon on your desktop for the connection if you want.
How long can my user name and email address be?
A maximum of 16 characters.
My password is only 6 characters long, why does it look like it is 15 characters?
Windows adds extra **** for security, this has nothing to do with us.
Can I get the Special Rate for Active Duty Military Personnel &
Active Duty Firefighters or Police Officers...
If I am retired?
If I know someone who is active duty?
If I work for some other government agency?
If I am in the medical field?
If I am disabled? etc.?
NO-Active Duty means just that, active duty for Firefighters or Police Officers Only
Do you block PORT 25?
YES-No Exceptions
What are the hours for Technical Support?
Our hours are Monday through Friday 7 am - 5:30 pm PST.
If there is a problem during non office hours such as an outage,
we will be working on the problem but we will not be answering the phones.
All calls will be returned the following day or on Monday if the call was placed during the weekend.
We do not get many after hours calls, that is why there are no Technicians available for (phone calls after hours or on weekends.)
I do not have a credit card or debit card, can I pay by check if I have the check routing number?
Can I mail you a check or money order?
No, at these prices we cannot accept checks or other methods of payment.
Can I sign up over the phone or by mail?
No, all sign up's are done online on our secure sign up page.
Can you send me a set up disk?
No we do not send any disks out.If you need help with your set up you can call or email us for support.
If you are currently a customer and need to set up a connection again you can go to:
Dial Up Access Number Lookup and log in.
Find an access number and use the "Auto Setup" hyperlink to download a new set up configuration.
Can I prepay for a year or more?
No, we prefer that all billing is done on a monthly basis.
How do I access my e-mail while I am away from home?
Go to: http://webmail.connectto.net// to log in to Webmail
Do you have templates or tools for a website?
No but there are many free tools online you can try, you can use the Google Search below if you like
How do I set my home page?
Open Internet Explorer, click on TOOLS, click on INTERNET OPTIONS





Under the GENERAL settings you will see
"You can change which page to use for your home page"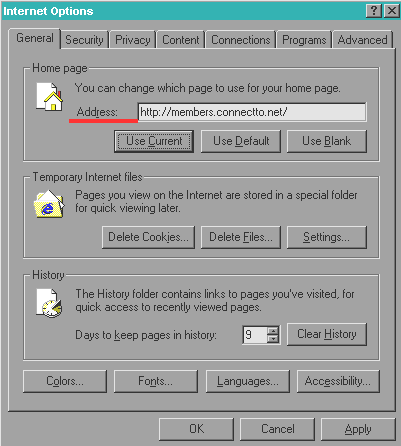 Enter the web address (URL) of the page you want to see first
when connecting to the Internet.
If there is an address in there and it is NOT what you want,
remove it and then enter the new page.
Click APPLY
Then click OK
You should be able to click on your HOME icon at anytime to get to the page you have chosen.
If I go over my monthly limit will I be charged more?
No, your account will be put on hold until the following month.
Limited service-You should only choose the 150 hour plan if you use the internet less than 5 hours a day.
I have unlimited service but is there really a limit?
Please see below:
Our only requirement is that the connection is used only by members of your immediate family living under the same roof, and that you do not attempt to maintain a connection when no operator is present.
Usage of more than 16 hours in any 24 hour period will be construed as a violation of these requirements.
Your account will be put on hold until the next month for violating the usage policy.
TIP: If you check the box "CONNECT AUTOMATICALLY" on the dial up dialog box you may be setting yourself up to go over your monthly hours!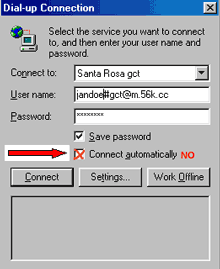 How can I tell if I already have a V.92 modem?
Go to the Control Panel. Select modems and then Diagnostics. Select your modem and press the button "More Info".
(You need to do this when you are NOT CONNECTED.)
After a few seconds, a number of lines of information will be returned to the screen.
On about the third line, you should see either V.90 or V.92, which indicates which type of modem you have.
How do I cancel my service?
You can either call us at 1-800-603-3022 or send an email request to cancel to: support@ConnectTo.Net
We will need your last name and dial up username to complete your request.
Please be sure you get a confirmation number when you cancel.
If you send an email request and do not receive a confirmation please call us or re-send the request.
Note: If you use your @gct21.net email address to send a cancellation we cannot reply to that address once the account is closed. Please use an alternative e-mail address to send a cancellation request so that we can reply to you.
***NOTE: WE DO NOT DO "SCHEDULED CANCELLATIONS" - MEANING THE DAY YOU CALL OR CONTACT US FOR A CANCELLATION IS THE DAY WE WILL CLOSE THE ACCOUNT.
You must give at least 3 days notice for cancellation!
Here is an excerpt of the terms you would have agreed to at the time of sign up:
I understand that I may cancel my account at the end of any billing period
by giving notice at least three (3) days prior to the billing date.
Such notice shall be given by e-mail to support@connectto.net or by telephone to 1-800-603-3022.
If service is not canceled three (3) days before the billing date,
you are authorized to charge this credit card for an additional month's service.
This authorization shall remain in effect indefinitely unless notice of cancellation is given as described above.
This electronic transmission shall be as binding as a signed document.
Please check back often-we update these pages on a regular basis